LGBTQ innovators have enriched our lives by building some of the most important tech we use today, and kept us entertained along the way. 
June Round-Up: Pride Month
Each week this June, we celebrated the contributions of LGBTQ inventors to the tech landscape, with four inventions that changed all our lives, plus a bonus Artist We Love post.
---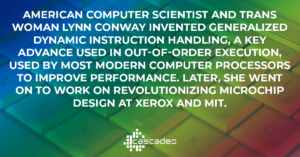 1. Generalized Dynamic Instruction Handling
American computer scientist and trans woman Lynn Conway invented generalized dynamic instruction handling, a key advance used in out-of-order execution, used by most modern computer processors to improve performance. She also suffered from gender dysphoria.
Forced to leave MIT in 1957 because she would not be allowed to transition there, Conway went on to work at IBM, where she was fired in 1968 as a result of her desire to medically transition.
Ms. Conway completed her transition that same year, then went on to work on revolutionizing microchip design at Xerox and MIT.
---
2. The General-Purpose Computer
British mathematician and WWII code-breaker Alan Turing is known as the father of the general-purpose computer. After he built the algorithms to break the previously unbreakable Nazi codes, he used his knowledge to design and further develop the engine that became the first stored-program computer.
Turing was prosecuted in 1952 by the British government for "gross indecency" after he admitted to having a relationship with another man, and banned from working for the Government Communication Headquarters where he had made his most impactful discoveries, among other inhumane punishments. The British government apologized for Turing's treatment in 2009, 55 years after he died by suicide.
---
3.GeoCities

Created by LGBTQ activist David Bohnett in 1994, GeoCities gave people one of the very first opportunities to create their own web presences, and by extension to develop their own public voices and build communities of advocacy. The "cities" networking aspect of the platform, where sites were linked thematically, paved the way for future iterations of social media.
Within three years of launch, GeoCities was the fifth most popular website in the world, and in 1998, flush with IPO funding, Bohnett added a search engine, templates to further democratize site building, and social tools to foster user interaction.
In 1999, Yahoo purchased GeoCities for $3.57 billion, and shut down the site 10 years later, but GeoCities' legacy was cemented as a pioneer of online self-expression.
---
4. The Interplanetary Superhighway
No, really. In 2000, Martin Lo, spacecraft trajectory expert currently working at the NASA-owned Jet Propulsion Laboratory, developed the LTool program, revolutionizing NASA's mission planning.
LTool allows NASA to design a mission that minimizes fuel consumption by accurately predicting planetary orbits up to 50x faster than previous methods, then modeling flight paths that take advantage of gravitational pull.
Lo was awarded the National Organization of Gay and Lesbian Scientists' LGBTQ Scientist of the Year in 2012.
---
5. An Artist We Love
Bonus Pride post! Although writer, poet, spoken-word artist, and rapper Kae Tempest did not invent anything noteworthy in the tech space, they're an artist we love and are excited to share. (Besides, poetry and code are both built on math, the language of the universe, so we feel comfortable with the reach.)
Tempest began as a teenage street rapper, developing an identity as a performer that allowed them to step outside the misery of gender dysphoria, and expanded over time into writing, theater, and music. They've been called "one of the brightest talents around" by The Guardian, and the New York Times wrote "While [their] intense performances on stage add a fierce urgency to the words, these text versions of [their] work stand powerfully on their own on the page," of their book Brand New Ancients, which won the Ted Hughes Award, making Tempest the prize's first winner under age 40.
Check out Tempest's YouTube channel to learn more.
---